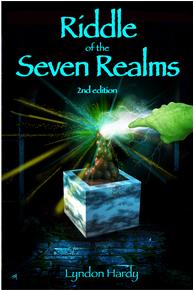 "Lyndon Hardy's incisive logic makes the wildest flights of fantasy believable and fascinating" — Lester del Rey
The worst of the mess they were in, Kestrel knew, was that it was all his own fault. It all began when he had tried to cheat the lady wizard Phoebe with a load of worthless wood. When she insisted on testing his sample, the demon Astron had burst through the flame.
Order from Amazon, Barnes and Noble, Kobo, or Apple Books
Also includes an Author's Afterward about how the book came to be, and a Glossary of terms and their Wikipedia URL links.
To be notified when my next book is available, click here
Some of the Amazon reviews for the first edition:
Excellent. Want more
Once again, Hardy displays deep thoughts on the workings of magic. The third in the series flicks the protagonists through a series of parallel worlds, each providing a clue toward solving the riddle. The characters are appealing and the description of various worlds and their inhabitants is well done.
Very well written
I must say that I didn't know what to expect when I picked up this book, but I was very pleasantly surprised by what I found. I like a good fantasy story that takes place within one or more alternate realities with their own rules – the more exotic, the better. Well, a major theme of this book is the nature of the various alternate universes that the characters encounter; each different (radically so) and yet internally consistent, and very interesting.
Great book
As good as the other two books of the trilogy
Definitely recommend to fantasy readers
Lyndon Hardy writes fantasy with an eye towards making the various disciplines in a logical and entertaining fashion
Cover by Tom Momary