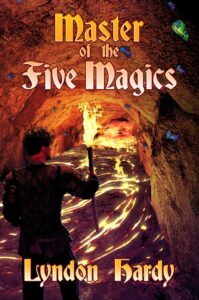 Alodar was a mere journeyman, learning the least of the five arts of magic. As such, he had no right to aspire to the hand of Vendora, Queen of all of Procolon. But aspire he did.
Available again after almost thirty years.
New second edition includes an Author's Afterward about how the book came to be, and a Glossary of terms and their Wikipedia URL links.
Get a copy now from Amazon,  Barnes and Noble,,  Kobo, or Apple Books
"One of the most logical detailing of the laws of magic ever to appear in fantasy" – famous first generation science fiction author Lester del Rey
Some of the Amazon reviews for the first edition:
A definite must read
As my bookshelves continue to grow, I can name only a handful of books that I continue revisit time and time again. Duncan's Magic Casement series. Feist's Riftwar. Moon's Saga of Paksenarrion. And above all, Hardy's Master of the Five Magics.
One of the greatest fantasy novels from the 1980s
I grew up reading fantasy and science fiction, and one of the greatest regrets I have is that I never found more than three books written by Lyndon Hardy, an author I still consider an automatic buy. In a way, this man's work defined what I expect from fantasy
Great book
I can't say enough good things about this book.
A truly great read
This book is flawless and fascinating. I can't wait to read it again.
Over 1000 Goodreads 5 star rankings
To be notified when my next book is available, click here
Cover by Tom Momary